This week, we are pleased to have Carmen Shek Cerne, Senior Specialist Head of Sale, Chinese Paintings from Christie's, join our discussion on her career in the auction house, tips on art valuation and the current market trends of Chinese paintings globally.
Dr. Henrietta Tsui-Leung: Henrietta
Carmen Shek Cerne: Carmen
Henrietta: So today, we will like to talk to you about your career if you don't mind. How did you became such an important figure in this area of Chinese painting auctions? But to begin with, where did you go to study? Were you from Hong Kong?
Carmen: I'm from Hong Kong and I studied and grew up here until I was 17. Then I went to study in this crazy school called the United World College, one of them, which is in Italy, and this is the place where it really changed the course of my life a lot. It's where I made many friends in different countries, where I met my husband and also where it really opened my eyes to world culture. So just one of the big things about going to Italy and staying there for two years.
Henrietta: Which university did you go to?
Carmen: At University College London, I wanted to be an archaeologist and then I wanted to study Egyptology, but I didn't have French and German.
Henrietta: Is Christie's your first job?
Carmen: No, the most relevant job that I had was an assistant curator at Maritime Museum for a year.
Henrietta: Here in Hong Kong?
Carmen: Here in Hong Kong and that was a really exciting time because the museum was just opening in Stanley. So, I was there when we opened it in Stanley to the public.
Henrietta: How did you set your foot in the door of this amazing company?
Carmen: I actually got to Christie's through an online application.
Henrietta: What?!
Carmen: So, I joined Christie's as an associate specialist trainee in 2009. At the time, I was looking for a job and I went to Christie's.com and it just popped up as an ad in the vacancy page, so I tried. Maybe six to eight months later, it took them that long to process the application, and I remember flying to London to meet some of the fellow contestants at the time.
Henrietta: Oh wow.
Carmen: And then later on I am here.
Image: Dr. Henrietta Tsui-Leung and Carmen Shek Cerne (image courtesy of Ora-Ora and Christie's Asia)
Henrietta: How would you generally prepare for a sale? For us, we only see the show and we see people going in to get a paddle and chase after certain lots, but we actually have no idea how you go about preparing for a sale.
Carmen: From a more simplistic point of view, for every six months we do the same thing and repeat. The first three months, everyone is busy sourcing for the upcoming sale. That would involve responding to the general public sending inquiries into the organization. The enquires could be from collectors who we've known for a long time, could also be random emails, letter of communications, telling us that someone owns an object and they would like it to be looked at and valued. Then towards the third and fourth months, so usually March and April, we may start preparing the catalogue and that takes about a month. So, March and April is cataloguing and putting together the catalogue, actually lining up the sale or we would say curating the sale, and then we start curating the actual exhibition, which takes place at the convention center.
We have an overall venue designer, who when you come into our auction, you see that every category would have a designated space, and then there is a sales room. All we have is a general architect person who does the professional drawing, but within the category itself, we can decide how our walls work and what we want to put where, so this all comes from the specialists themselves.
Henrietta: How do you select the consignment pieces for a particular auction sale?
Carmen: So, as a department we handle over 1000 objects a year, across a very wide time period, everything from the Song Dynasty all the way to Contemporary where Henrietta and I overlap most. So, we have responsive sourcing, where we are responding to client's requests that wish to buy things. Then there is proactive sourcing, where there are things that we know where they are, and we really want to include them in a sale. Then we have the more regular contributors, such as dealers, galleries, and these are the long-term partners that would occasionally give offer items in a sale.
So, we'll try to determine whether things are valued in the right way. We also look at whether particular things are good to sell at a particular time. Sometimes we know that there are really amazing things but maybe at this particular time, it's not the best time. Then we will think about, what about next year? So we do a lot of that thinking and then there's also the matter of location. Which sale site is more suitable? Is Hong Kong the best place to sell a piece or is New York better? When that happens, we need to work very regularly with our colleagues in London and New York to have that discussion.
Henrietta: Having done all that then you have to curate in a way that there is a kind of rhythm.
Carmen: Yes.
Henrietta: What does that mean?
Carmen: So, it means that we can't just put everything in a random sequence in a sale. A large sale in our company will last for possibly ten hours, which would be the longest sale that I've done. However, in a general five to six hour sale, we need to consider times when some clients would come and go, so we also need to maintain a very exciting momentum during the sale. This means I have to have some very important things in between different collections, or we need to place a painting, almost like a room divider or a section divider, where people realize these things are relevant and that would determine the rhythm of the sale. We want to consider when people come into the exhibition, when do they want to see the most expensive piece in the sale? Or if the paintings are very large, where do we put them and when paintings are very small, do we cluster them close together so it's easier for people to see and pay attention? The intention is always to encourage people to linger longer or to enjoy the exhibition, and to have a great experience.
Henrietta: What you have described we wouldn't necessarily know, but at the same time, as a gallerist, we also have to curate shows in the gallery or in an outside art space. Sometimes we find it very challenging and interesting, and other times we invite external curators to help us, especially during major art fairs like Art Basel. We are given a booth and a space and we will have to try to maximize the flow, the traffic flow of people, especially in a place where there are hundreds of galleries competing with us. However, the consideration is very different because I would not have to plan the layout of my book, together with the layout of the exhibition and again, you also have to think about the timing.
Carmen: We have to make sure that each piece has their own deserved space and their own deserved atmosphere, because it's actually a very competitive landscape. If you look at a sale with 500 paintings for example, how do we let one particular painting stand out and how do people pay attention to that? Sometimes it really helps to put things that are more similar together.
Henrietta: How do you choose which artists' works to put in an auction sale?
Carmen: I would say choices are about 50/50. I love bringing in new artists because it's great to see new talents and it always gives people a fresh breath of air. When we are talking about the top artists, they are necessary. There is that constant want to expand the market and the biggest basic to extend the market would be the top layer. Then we have the core level, the names that people are very familiar with, and we are very confident with the mid-range prices. Then I think about emerging artists. It's really interesting because we see how the market responds to them. We see when people walk into the hall, do they like it? What do they talk about it when they see a piece of work? Are they curious about the artist? What they've done? All these things are a big satisfaction of my part of the job.
Henrietta: Another million-dollar question would be: how do you do valuation? There is an unofficial point of view that you often value the art rather low in range.
Carmen: When we are doing valuation, we look at four to five elements. First, we have 'quality', which is the most important and then we have 'provenance' — where it comes from, whether someone famous owned it before, whether it's been always in the collection, whether it's been seen in the market before. Then we have 'variety', so for that particular type of painting, how many editions are out there — are there two thousand out there or just two? That also affects it. Then we have 'condition', which probably affects contemporary works a little less, but how good is the condition? Is it moldy, does it need a lot of restoration? For contemporary work, we also consider how easy it is to display it, so that's also a consideration. Then last, but one of the most important, is who the artist is and how is the market for that particular artist? Is he already at the top level? Is he a best seller, is he emerging? Or is he entirely new? That will determine the price range and then the rest is like a meter, where they can have a higher and lower and the estimate would be a summary of that. So even though it's not scientific, the interesting thing is, when a team, for example, when my team look at a work, often at times the estimates won't be that far off. When we estimate a one million dollar work for example, the difference between the whole team would be about 100 to 220 thousand, so 10–20%. It's not a huge difference. So it is not entirely mathematical, but it's predictable.
Henrietta: Does the seller have any say in this?
Carmen: Yes always. They have to agree.
Henrietta: They can only agree!
Carmen: So, they have to agree in order for us to get business. In a way, it is also a mutual understanding. What we do in the first line is we propose something that we think is most suitable. Of course, the client's expectations are always different and so are the circumstances and depending on these circumstances and our proposal, we would reach a midway. Sometimes the midway is closer to us and sometimes the midway is closer to them. It also depends on the demand of the market. If it's something that we know for a fact that in the market there is a huge demand, then maybe we will meet more towards their way too.
Another thing that I haven't mentioned before is to look at the market track record, which is a very important indicator.
Henrietta: How did Contemporary Ink Sale evolve at Christie's?
Carmen: How can we breakthrough that existing wall of Chinese paintings and look into the future, and that's the birth of Chinese Contemporary Ink as a separate category. We also didn't want to do an auction right away, so we did a series of private selling exhibitions, which proved to be really successful in 2013 and 14. We brought in many artists, working directly with them and to showcase their creativity, but also allowing me to get to know people like you and the trade, and a group of galleries that really focus on promoting the ink.
When I did that exhibition part full-time, it was a great way to engage with clients because in a way, that time is a bit slower, the time frame is a bit slower. In auctions, everything is sold in five seconds, but for exhibitions it allows, like your business, it allows time for people to consider and to come back and ask more questions. From that interaction, I got to know a lot of clients closely because we were able to have meaningful conversations about a particular work or an artist.
Henrietta: What kind of bridges do we need to build in order for people in the rest of the world to eventually appreciate ink the same way that Asian do?
Carmen: One of the big things that would need to change is the gallery system in Mainland China. When that becomes a major force, where artists can promote themselves to the wider audience, once that's mature, then the rest would come much faster and much easier. We definitely need more gallery systems in China because Hong Kong galleries only have very limited presence in China. Also, it's a huge country, meaning there are so many talented artists that need to be explored, properly promoted, and also advised. How their work evolves, what career trajectory do they want or do people want to see? All these require more professional advisory in order for that market to grow.
Henrietta: What is needed to sustain interests in Ink art internationally?
Carmen: Education is key. Remember in 2011–12 when there was a series of exhibitions done at the British Museum, the Musee Guimet in Paris, the Boston Museum of Fine Art and then the show at the MET. There was a series of things happening in the two years and at the time people were really excited about it, so we really need more of that to sustain the attention and interest.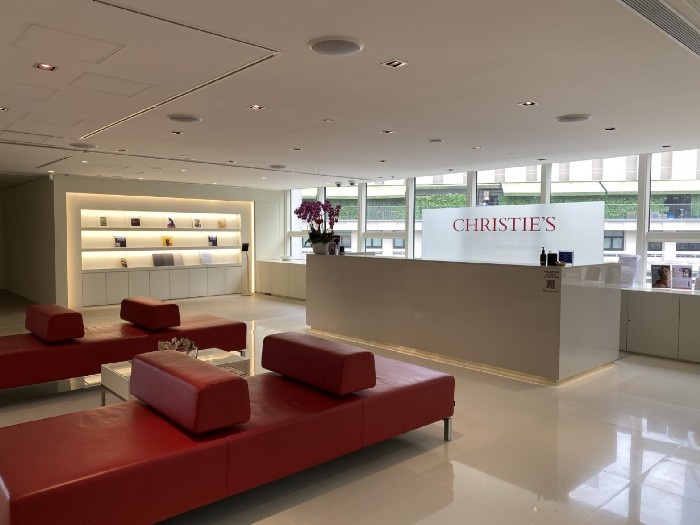 Image: Christie's Hong Kong Office. (image courtesy of Ora-Ora and Christie's Asia)
---
About Ora-Ora Live
Each week, Ora-Ora's founder Dr. Henrietta Tsui-Leung will speak with various members of the art community — including artists, curators, academics and other professionals working in the cultural sector — to address topics of interest related but not limited to Hong Kong's art and cultural scene. Arranged in fifteen to thirty-minute segments, the series aims to be an outlet for creativity and a means to connect with peers who share similar interests. The episodes will also available live on Ora-Ora's Instagram (@galerieoraora), Facebook (Galerie Ora-Ora) and later on Ora-Ora's YouTube channel.