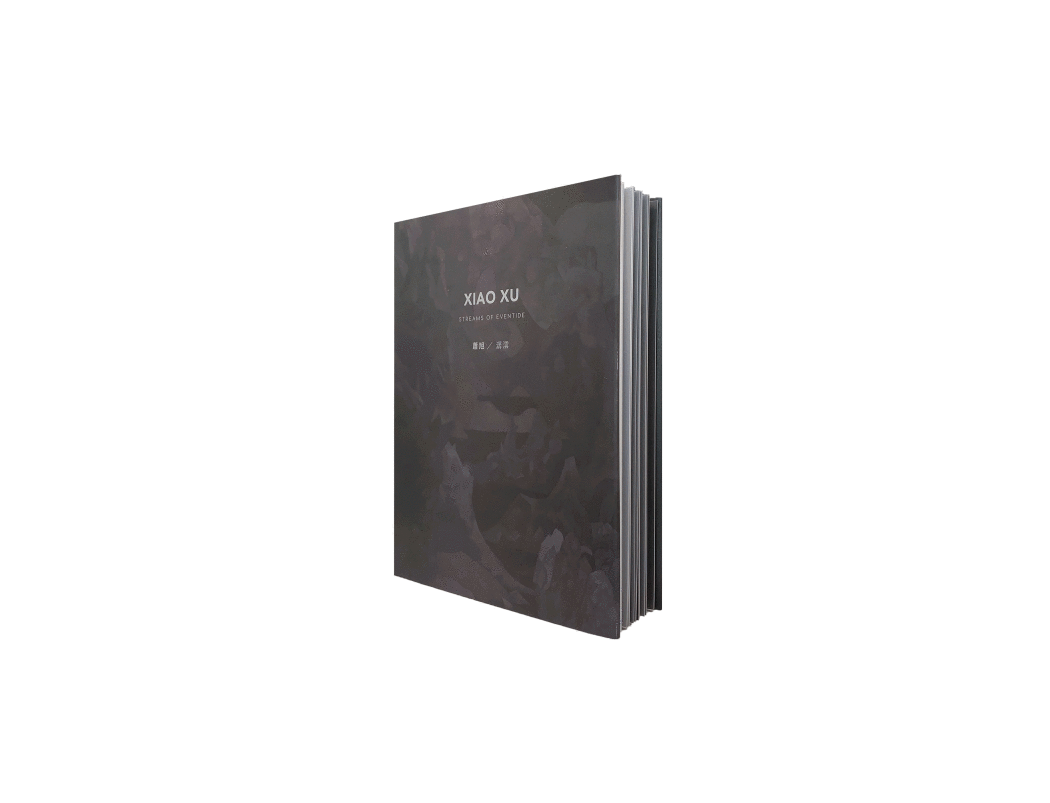 IN 2018, ORA-ORA HELD A SOLO EXHIBITION FOR CONTEMPORARY ARTIST XIAO XU -

STREAMS OF EVENTIDE
, WHICH OFFERS THE AUDIENCE A DIFFERENT ARTISTIC EXPERIENCE AND ALLOWS THEM TO DISCOVER THE INFINITE POSSIBILITIES OF CONTEMPORARY INK.
THE EXHIBITION INVESTIGATED THE CONTINGENT LANDSCAPE BETWEEN REALITY AND ILLUSION, FILLING THE PICTORIAL SURFACE WITH GLACIERS AND MAZES. THROUGH THIS DREAMY DEPICTION, XIAO QUESTIONED AND REFLECTED ON THE DIVERSITY OF HUMAN NATURE.
AS AN EXTENSION OF THE THEMES EXPLORED IN THE EXHIBITION, ORA-ORA PRESENTS THE ACCOMPANYING BOOK, ALSO TITLED
STREAMS OF EVENTIDE
. WITH AN ASSORTMENT OF ARTICLES AND AN EXTENSIVE Q&A WITH THE ARTIST, THE BOOK NOT ONLY ALLOWS AUDIENCES TO FURTHER EXAMINE AND UNDERSTAND XIAO'S CREATIVE PROCESS, BUT PROVIDES AN OPPORTUNITY FOR READERS TO DEEPLY APPRECIATE THE ESSENCE OF XIAO'S AESTHETICS.
---

Xiao Xu

—

Streams of Eventide
Excerpts from Conversation with the Artist /Interviewed by Christopher Babb
1
.
From your words and paintings, we can clearly see your interest in nature and how it influences your art. Your works are permeated by quiet and reclusive natural spaces. Are these reflective of where you spent your childhood growing up, or are they simply imaginary backdrops? From where do you think this fascination with the natural world stems?
I spent my childhood in a rural area of China. During life there, I always listened to the thunder and rain tinkling against the tiled roofs in spring, chased fireflies under the stars in summer, grilled sausages and corn in the grove in autumn and stared blankly into the fireplace during the snowless winters. The memories of these experiences and the environment in which they took place are, for me, profound. They are forever lodged in my mind and bring me peace.
3.
Do you paint from your subconscious? How do you decide the subjects and composition of your pieces? Do you have a strict format you follow when working on a painting, or do you invest
most of your time exploring the concept and then allowing the work to flow organically from your conclusions?
Before I compose any painting, I condense various rough images which have caught my attention into a unified concept. When it comes to the final draft of my artwork, however, I have a clear vision and plan for what direction it will take. Before creating Cold Mountain (2017), I had already made the conscious decision to explore the contradictions we can see regarding human social interactions in today's society: particularly social hierarchy and the conflicts between each other. My attempt to inform the works with these perceptions was achieved by deliberately restructuring the composition of traditional ink painting landscape settings. In Cold Mountain I have used the iceberg as a strong and destructive object, which creates a tension against the traditional landscape. If you look at all my works, I have always established the composition and subject of the painting using this logic.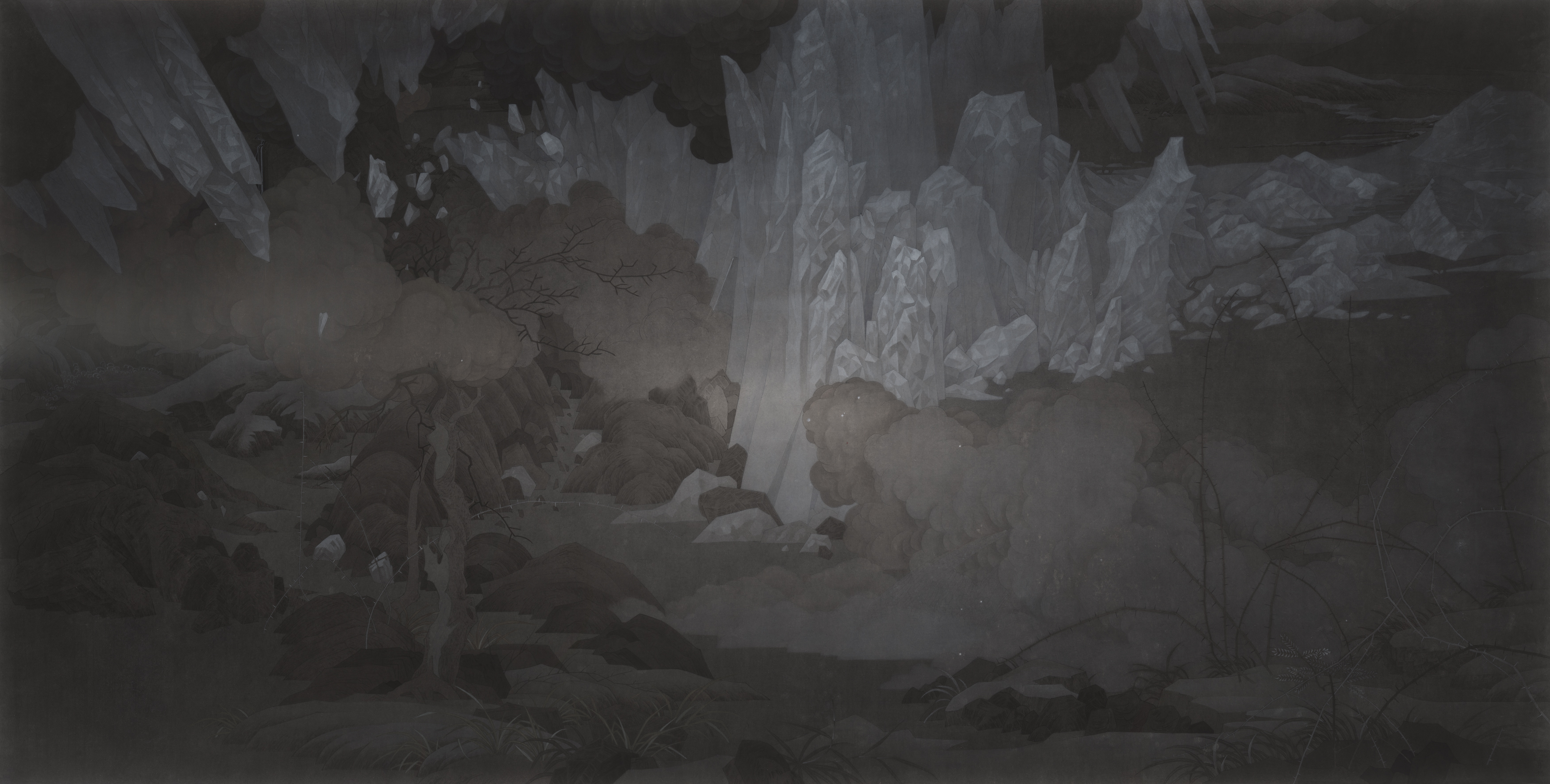 Xiao Xu, Pure Mountain Stream, 2017, Ink on paper, 143 x 243 cm (Courtesy of the artist and Ora-Ora)
6.
As an artist who acknowledges the love of the darkness and mythology, which is imbued in your paintings, you once stated, "It might be that I have seen too many dark sides of the world". Give us some understanding of what you mean by this?
As I said, I grew up in rural China, so I saw much uncivilized behaviour there. When I was in middle school and high school, gang culture was very popular amongst students. Some of my classmates were murdered; some became prostitutes and drug dealers. There were many dark aspects to that kind of environment and experience. The first poetry book I read was by Li Yu and the first novel was The Metamorphosis by Franz Kafka followed by Crime and Punishment by Fyodor Dostoevsky. I was fascinated by how they expressed their views on the dark facets of life. So, regardless of whether it is from real life or an imagined world, I am surrounded by these kinds of shadow.
8
.
Most of the subjects you choose are inspired by traditional Chinese culture. How do these choices relate to your personal experience? How do you decide on what to focus?
I was born in a new era, and received a different, contemporary education growing up from previous Chinese generations. Now, we see that this modern way of thinking has created a cultural gap to that of ancient Chinese tradition. However, I appreciate that learning the traditional Chinese painting methods at university and exploring this artistic vernacular was actually a process of traceability. The subject matter is never my first priority when painting, and so I do not have a preference in that regard.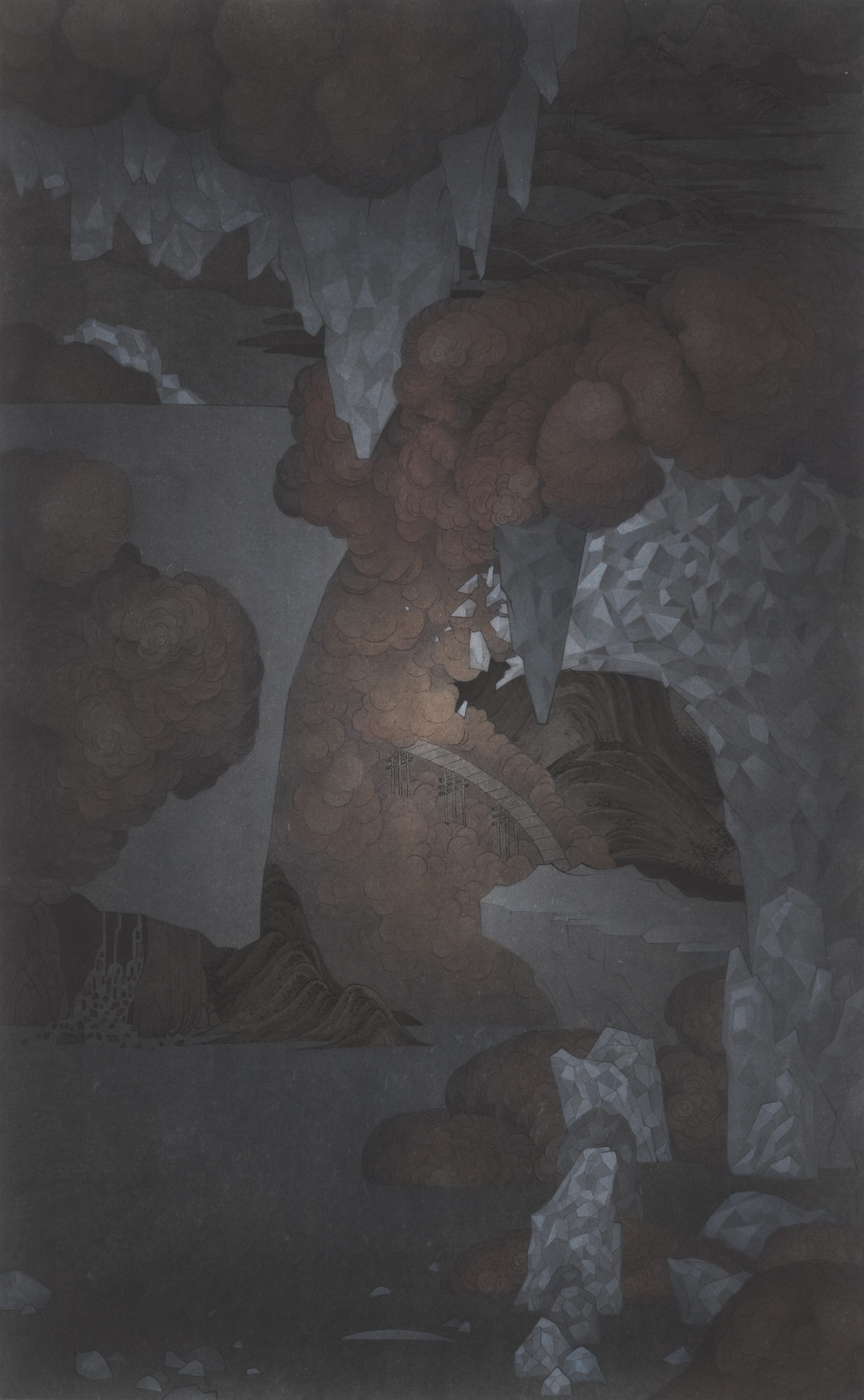 Xiao Xu, Beyond the Sky, 2017, Ink on paper, 60 x 40 cm (Courtesy of the artist and Ora-Ora)
11
.
Is the use of white powder (white lead) to
colour
merely due to its functionality? Do you consider other methods according to the specific subjects and composition? What is the difference in your use of this material as opposed to traditional technique?
I frequently use white lead in my works. There are complicated changes which apply to light and shadow and using this pigment lends itself to the sense of rhythm of the piece. I now treat it as a rhythm, a pitch, a feeling. I invented a new use of white lead to redefine the effect and feelings which are projected onto the canvas.
15
.
Your pieces really personify the idea of Magical Realism, the viewer allowed to explore through your portal into the world of "
grotto heavens
" (
dongtian
) and in this regard, mirror works such as Alice in the Wonderland or the novels of Gabriel García Márquez. What is the significance of these for you? You grew up in a rural, bygone China and have seen how this country has been transformed into the modern contemporary China we see today. Has anything which has taken place during this turbulent period influenced your feelings or artistic temperament?
As you have said, I have gone through the experience of a change of history, environment, identity, mind and culture under the transformation of this country. Within just 30 years, people have had no time to think of their world view, life and value, due to the rapid impact we feel in regards to time and space in China. Because of this rapid state of change there are so many ridiculous things that have happened in this motherland, similar to how society is described in One Hundred Years of Solitude; we are confused by both our realities and by the virtual world and where the two intertwine. I use a deliberately melodramatic approach to depict my feelings in relation to this period of extreme flux, and it is for this reason that my paintings engender a different experience compared to traditional painting.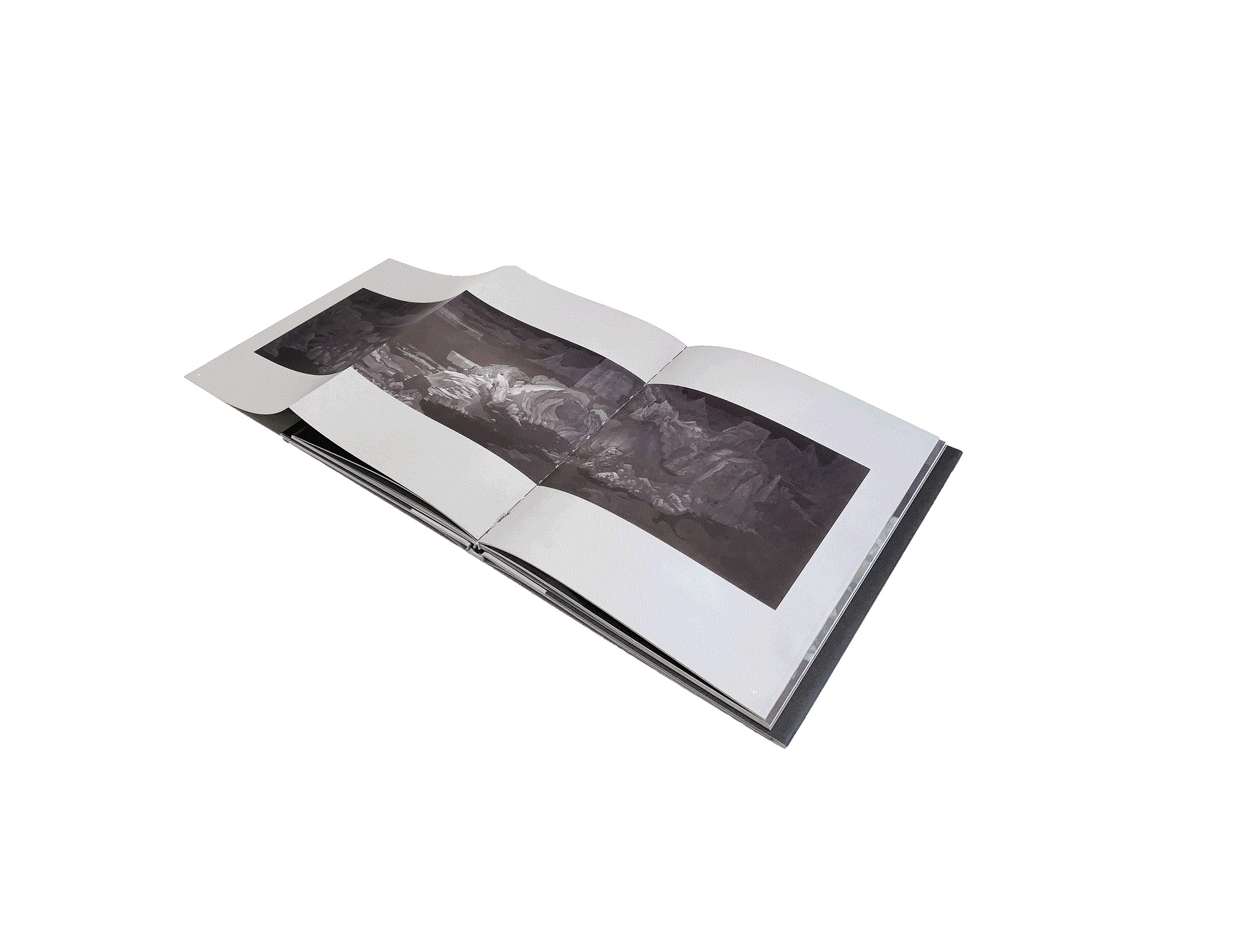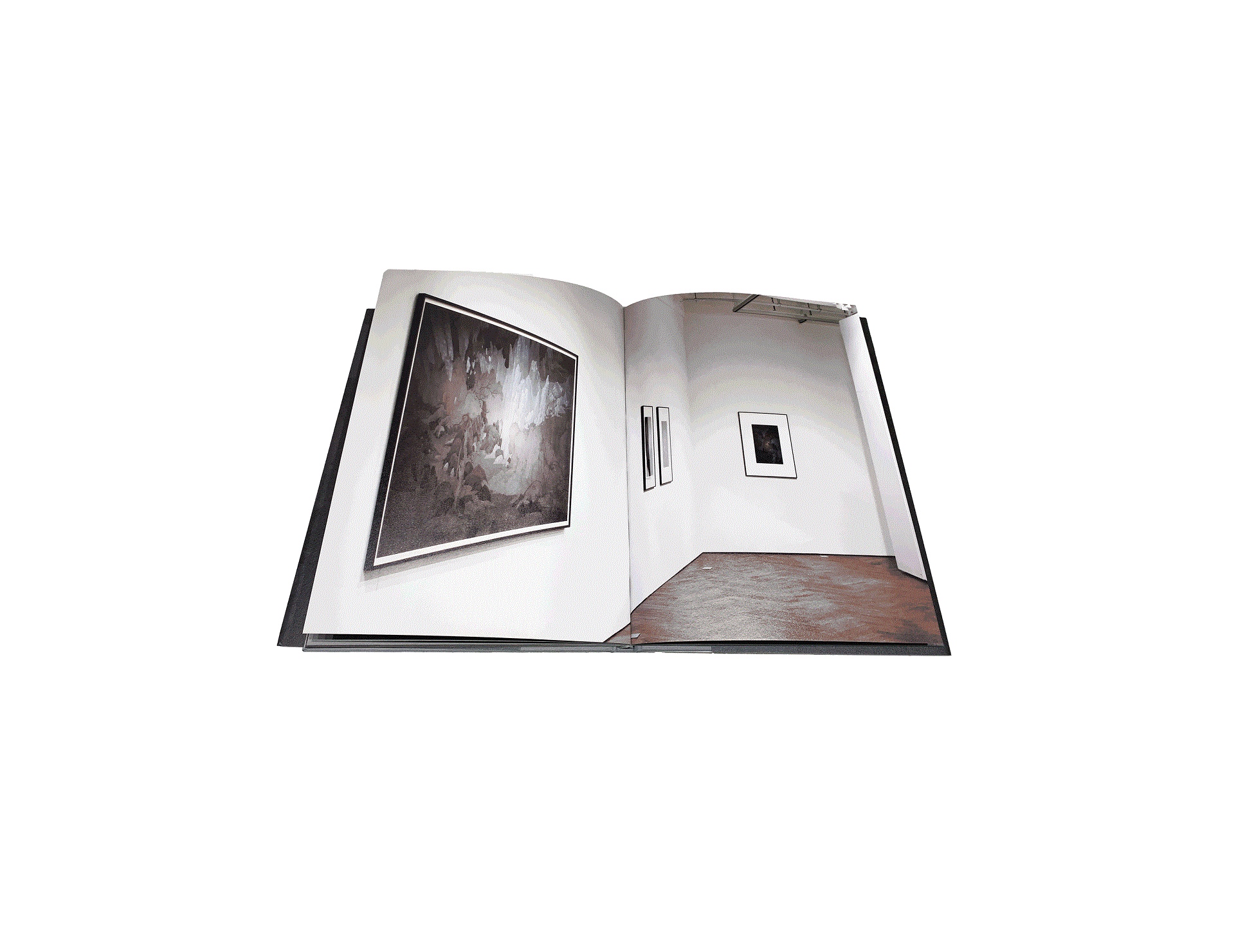 ---
Xiao Xu was born in Chongqing in 1983. He had what he describes as "a care-free childhood in a rural area." The most fascinating component of his childhood wais watching his grandfather making sacrificial houses out of rice paper and bamboo for those who had died, an association between tradition and the modern, between this world and another world, which has impacted him ever since.
He graduated from Sichuan Fine Arts Institute with a Bachelor's degree and Master's degree in Chinese Painting department in 2007 and 2010.
Xiao has participated in numerous exhibitions, including Streams of Eventide at Galerie Ora-Ora (2018), Enchanted Landscape – Ink Group Exhibition at Sotheby's New York (2014), After 70's: New Ink Painting – Yiqingzhai Collection Exhibition at Art Space, Sotheby's Hong Kong (2013) and Danqinxi Gu Jin – HK-Taiwan Contemporary Ink Artists Series Exhibition at My Humble House Art Gallery, Taipei (2012).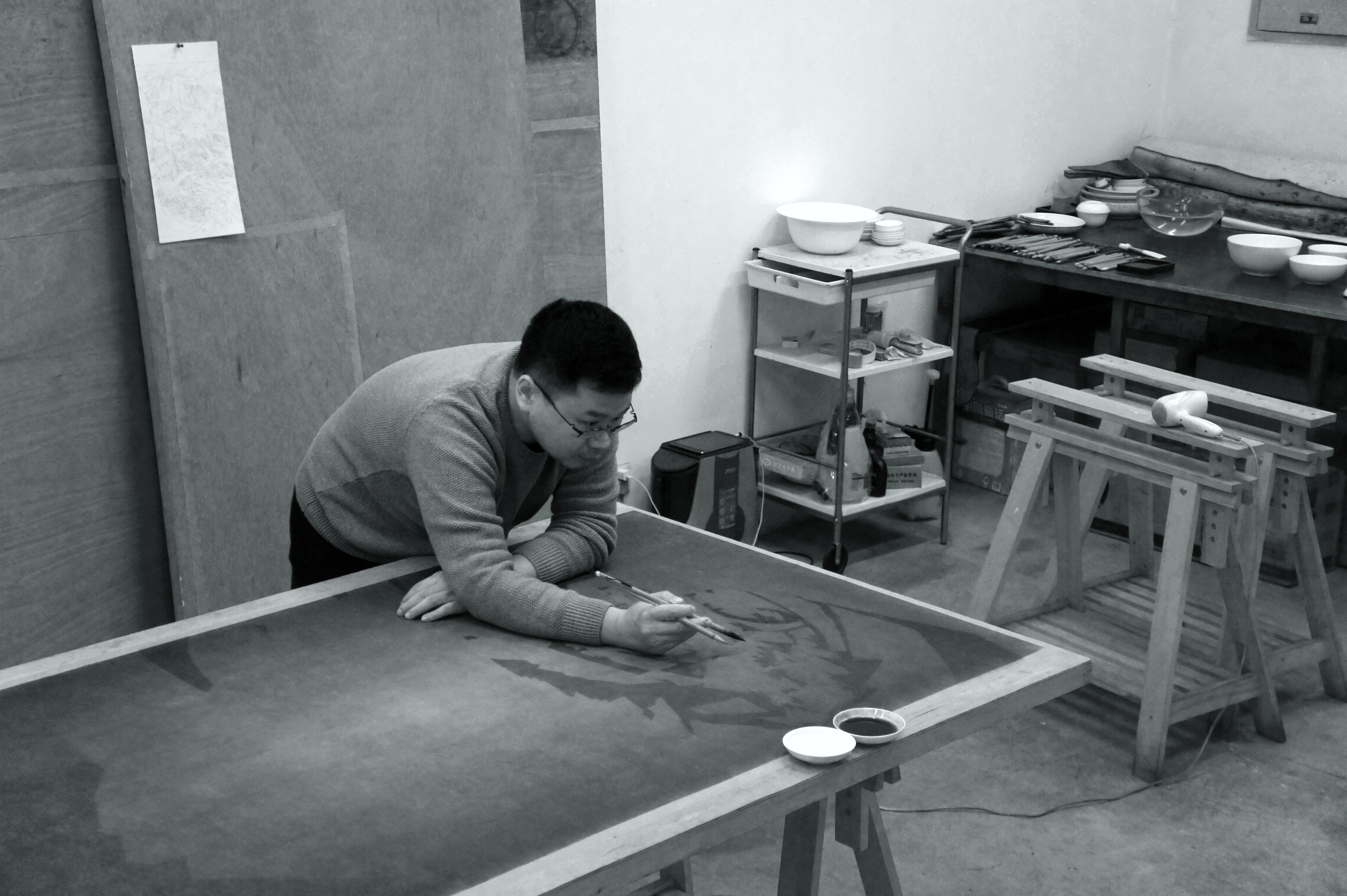 Xiao Xu (Image courtesy of the artist and Ora-Ora)